Friday's Morning Email: Three Dead In Louisiana Movie Theater Shooting … – Huffington Post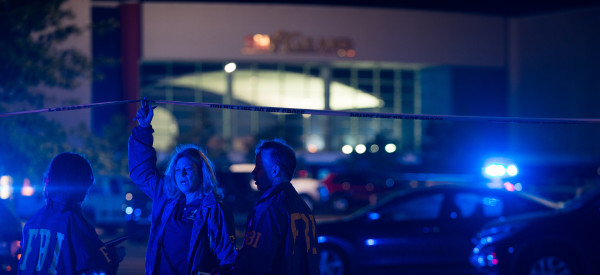 TOP STORIES
To get The Morning Email, HuffPost's daily roundup of the news, in your inbox, sign up here.
THREE DEAD IN LOUISIANA MOVIE THEATER SHOOTING Three are dead and nine others are wounded after a lone gunman opened fire in a movie theater in Lafayette, Louisiana. The 58-year-old gunman, who is counted among the dead, allegedly took his own life. Around 100 people were in the movie theater when the attack began. [Andrew Hart and Jade Walker, HuffPost]
ANTHEM TO BUY CIGNA FOR $54 BILLION Combined, the two health insurance agencies will cover 53 million people in the United States. [AP]
TURKEY HITS ISIS TARGETS ON SYRIAN BORDER "The bombing followed a decision by Turkey this week to allow the U.S. military to use the Incirlik air base near the border with Syria to launch airstrikes against the Islamic State." [AP]
SANDRA BLAND AUTOPSY SHOWS 'NO EVIDENCE SUGGESTING HOMICIDE' "Waller County prosecutor Warren Diepraam on Thursday discussed details of the autopsy of the 28-year-old, who authorities say was found hanging by a plastic bag in her jail cell on July 13. She had been arrested three days earlier for allegedly assaulting a state trooper during a traffic stop." [Andy Campbell, HuffPost]
MEET EARTH'S COUSIN The Earth-like planet orbits a star much like the sun and could potentially have life on it. [Jacqueline Howard and Eliza Sankar-Gorton, HuffPost]
CLINTON'S OUTSIDE EMAIL ACCOUNT COULD RESULT IN CRIMINAL INQUIRY "Two inspectors general have asked the Justice Department to open a criminal investigation into whether sensitive government information was mishandled in connection with the personal email account Hillary Rodham Clinton used as secretary of state, senior government officials said Thursday." [NYT]
OBAMA'S 'GREATEST FRUSTRATION' OF HIS PRESIDENCY "If you ask me where has been the one area where I feel that I've been most frustrated and most stymied, it is the fact that the United States of America is the one advanced nation on Earth in which, we do not have sufficient common-sense gun safety laws, even in the face of repeated mass killings," President Barack Obama told the BBC. [Paige Lavender, HuffPost]
WHAT'S BREWING
OF COURSE LUDACRIS WILL BE ON SEASON TWO OF 'EMPIRE' If he can guest on a track for Jesse McCartney, he can show up on one of the best prime-time soaps in recent history. [Vulture]
THE 'MOM' BEHIND THE 'MOST AMBITIOUS SPACE MISSION IN A GENERATION' "At the center of it all was Alice Bowman, the woman in the cubicle and the engineer who led the team that guided the spacecraft towards its destination. For a while on July 15, she was trending on Twitter. Some cheered her role as the first woman to oversee an operation so ambitious, one that seems to have had more women working on it than any other mission in NASA's history." [HuffPost]
MEET THE NEW HOSTS OF 'THE VIEW' Candace Cameron Bure and Paula Faris will take over co-host roles for the embattled talk show. [Variety]
THE 'BAD BLOOD' IS OVER Taylor Swift has apologized to Nicki Minaj for "missing the point" after their Twitter spat. [HuffPost]
DON'T TAKE SELFIES WITH BISON This seems self-evident, but apparently it's not. [BBC]
OBVIOUSLY THERE WILL BE A 'JURASSIC WORLD' SEQUEL You can't make that much money and just stop. [HuffPost]
DANIEL RADCLIFFE WOULD LIKE TO REMIND YOU ALL HE'S WORTH MORE THAN ONE DIRECTION At least, when you consider the members of the boy band individually. [Daily Beast]
WHAT'S WORKING
THESE DOGS SNIFF OUT ELEPHANT IVORY "Will Powell, the director of AWF's Conservation Canine Program, just finished training 10 dogs and 14 handlers to monitor two epicenters of the ongoing poaching crisis that's devastated elephant and rhino populations. The program has been running alongside officials from the Kenyan Wildlife Service and Tanzania's Wildlife Division for the past two months, and the detection teams will soon help patrol the ports of Dar and Mombasa." [HuffPost]
ON THE BLOG
GO ON A PHONE DETOX "I realized my bedtime routine is usually centered around one thing: my phone. Right before I go to sleep, I browse through my Facebook news feed (who got engaged now?) and check my email (how dare I miss an unread email before bed)." [HuffPost]
BEFORE YOU GO
~ In this week's "So, That Happened," the crew salutes Elizabeth Warren for once again proving you don't want to cross her in a hearing.
~ Lupe Fiasco wades into the ghostwriting Drake/Meek Mill melee.
~ MSNBC is facing a shakeup.
~ The world's first possible malaria vaccine may soon become a reality.
~ Starbucks profits are up 22 percent.
~ YouTube gets a vertical update.
~ Debunking the myth of those Fukushima daisies.
~ Booze around the world.
~ Behind those pictures of Nirvana's first concert.
Send tips/quips/quotes/stories/photos/events/scoops to Lauren Weber at lauren.weber@huffingtonpost.com. Follow us on Twitter @LaurenWeberHP. And like what you're reading? Sign up here to get The Morning Email delivered to you.
CommentsWrite a Reply or Comment: