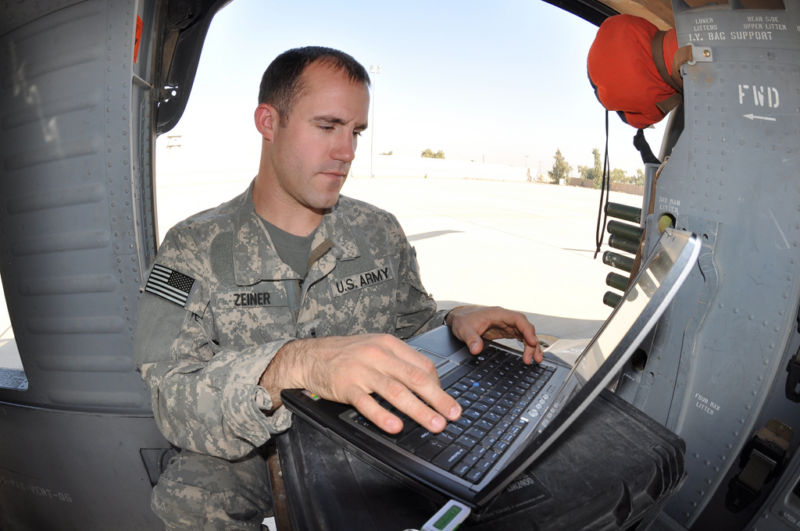 The US Department of Defense announced yesterday that the Defense Information Systems Agency (DISA)—the DOD's internal IT provider—had awarded Microsoft a $927 million, five-year contract to provide what it calls "Microsoft Blue Badge Cardholder Support." The contract is a combination of site license, consulting services, access to Microsoft developers, and actual source code. "These services require access rights to Microsoft's proprietary (closed-source) code, which is licensed under exclusive legal right of Microsoft, and are required to support the Department of Defense's mission," the Department of Defense announcement read.
"Blue Badge Cardholder Support" essentially means direct support from Microsoft's internal employees—not from outsourced contractors (who wear orange badges on the Microsoft campus). The contract gives Microsoft a channel to bill for the direct support provided to DOD for its client, server, and software deployments. This contract is a follow-on to a similar contract DISA awarded Microsoft in June of 2013—a $412 million contract that had its cap raised to $575 million in 2015.
Having direct access to Microsoft's code has played a major role in DISA's push toward bringing all of DOD into an internal, cloud-based e-mail system pioneered by the Army. It also gives DISA a means by which to understand how Microsoft's products work—and potentially request custom modifications of them for DOD's specific use. "The core requirements [for the contract] are for [Microsoft] to provide… consulting services that include software developers and product teams to leverage a variety of proprietary resources and source code, and Microsoft premier support services such as tools and knowledge bases, problem resolution assistance from product developers, and access to Microsoft source code when applicable to support Department of Defense's mission," the contract notice explained.