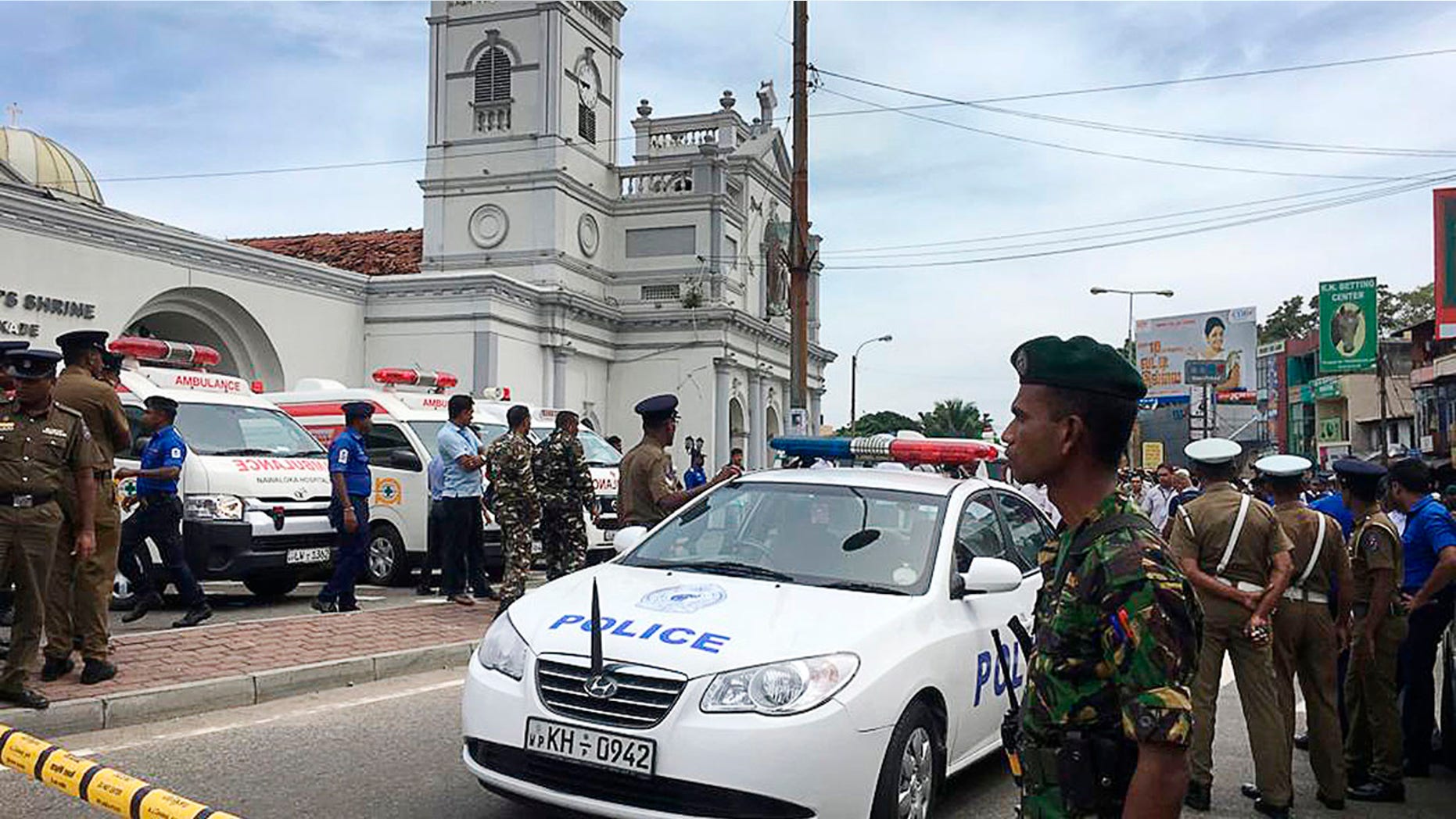 Six nearly simultaneous explosions struck three churches and three high-end hotels frequented by tourists on Easter Sunday in Sri Lanka, killing nearly 200 people and injuring many more, according to police and hospital sources.
Multiple fatalities — including 11 foreigners — resulted among worshipers and hotel guests, a police official said, adding that at least two of the church blasts were believed to have been a coordinated attack carried out by suicide bombers.
The first explosions occurred around 8:45 a.m., with the deadliest appearing to be at St. Sebastian's Church in Negombo, a city about 20 miles north of Colombo, the capital. Other attacks occurred at St. Anthony's Shrine in Colombo and Zion Church in the eastern city of Batticaloa. The three hotels — the Shangri La, Cinnamon Grand and Kingsbury Hotel — all in Colombo, are frequented by foreign tourists.
Photos posted to social media showed blood and debris inside the targeted churches.
Dr. Samiddhi Samarakoon, a deputy director of the National Hospital of Sri Lanka, told the New York Times the death toll had risen to 189 by Sunday afternoon.
U.S. Ambassador to Sri Lanka Alaina Teplitz offered her condolences over Twitter early Sunday
"Deeply saddened by the senseless attacks in Sri Lanka today. Our thoughts are with the victims and their families. We stand with Sri Lanka's people at this terrible moment," she tweeted.
Prime Minister Ranil Wickremesinghe met with senior military personnel in an emergency meeting. He condemned the "cowardly attacks" on Twitter.
SRI LANKA AVERTS RIFT SPILLING OVER TO UN RIGHTS SESSION
Photos posted to social media showed blood and debris in the targeted places of worship. St. Sebastian's pleaded for help on its Facebook page. The explosion ripped the roof off the building and knocked out doors and windows. Churches throughout the country have been placed on alert, with many canceling Easter services.
In a statement from Jerusalem, the Catholic Church in the Holy Land said it was praying "for the souls of the victims and ask for speedy recovery of the injured, and ask God to inspire the terrorists to repent of their killing and intimidation."
A police official told Agence France-Presse that 45 people died in Colombo, 67 in Negombo and another 25 in Batticaloa, according to early estimates.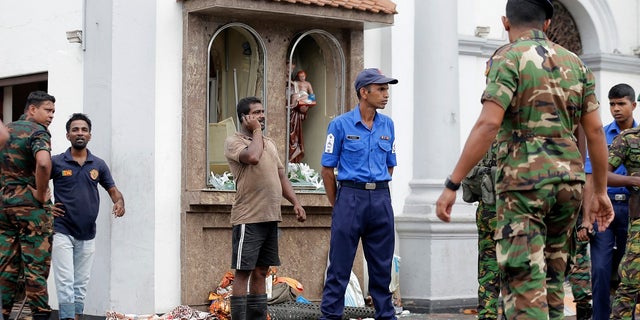 The official spoke on condition of anonymity as he was not authorized to speak with reporters.
Alex Agileson, who was in the vicinity, told the Associated Press that the explosions shook other buildings in the surrounding area. He reported seeing numerous people carried to ambulances.
CLICK HERE TO GET THE FOX NEWS APP
Police immediately rushed to the scenes of the blasts. About 50 people with assorted injuries had so far been admitted in Colombo's main hospital.
There were no immediate claims of responsibility, Reuters reported.
Sri Lankan Member of Parliament Harsha de Silva tweeted Sunday of "many casualties including foreigners."
"Sec Defence and I am at Kochchikade church. Also was at ShangriLa n Kingsbury. PM is on his way from Bentota. Emergency meeting called in a few minutes. Rescue operations underway. Please stay calm and indoors. Many casualties including foreigners," he posted.
"Horrible scenes. I saw many body parts strewn all over. Emergency crews are at all locations in full force. We, at 1990 also have close to 20 units at the various locations. We took multiple casualties to hospital. Hopefully saved many lives," he continued.
As the toll rises, the National Blood Transfusion Service put out an appeal to the public for donations.
The magnitude of the attacks recalls Sri Lanka's decades-long civil war when separatist Tamil Tigers and other rebel groups targeted the Central Bank, Buddist temple and hotels popular with tourists.
The Associated Press contributed to this story. This is a developing story. Check back for updates.