A Bet That Microsoft Will Top Apple Again – Bloomberg View
Two questions have been dogging Apple for a few years now.
Can iPhone sales keep going up?
What comes after the iPhone?
Tim Cook & Co. did a pretty great job of answering question No. 1 in the company's 2015 fiscal year, which ended in September, with the biggest gain in iPhone unit sales since 2012 and a 35 percent rise in net income, to $53 billion. But that just raises the bar for 2016. As for No. 2, the two new products introduced since the iPhone, the iPad and Apple Watch, have sold lots of units, but done almost nothing to reduce the company's dependence on its flagship product.
As a result, the world's most profitable, most admired, most beloved corporation now has a price-to-earnings ratio of 10.9. Here's how that compares with a few other iconic but far less glamorous multinationals.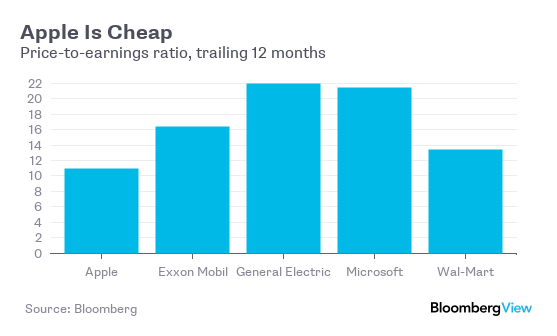 Microsoft is an especially interesting case. Apple's longtime frenemy — the company that copied it in the late 1980s, almost killed it in the mid-1990s, extended it a lifeline after Steve Jobs returned to Apple in 1997 and then watched Jobs wrest the limelight from it in the 2000s — has generated some attention and excitement under new Chief Executive Officer Satya Nadella. Microsoft's earnings have been declining for four years running, though. It has so far mostly missed out on the great shift to mobile devices that has driven Apple's success. Yet during the past year, its P/E ratio has gone from even with Apple's to twice as high.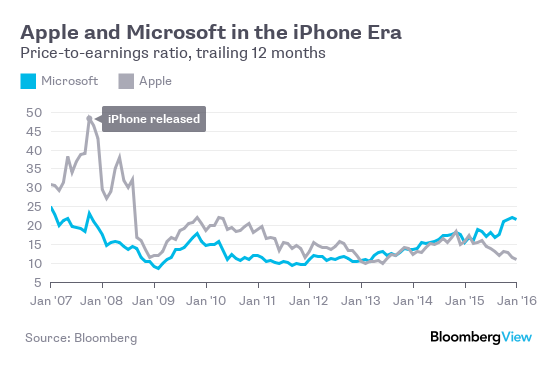 There's nothing per se unreasonable about this, of course. Investors seem to think Nadella has a shot at putting Microsoft back on a growth track, while they have trouble seeing how Cook can keep Apple on one. Bloomberg Gadfly's Shira Ovide recommends that investors chill out and "be reassured by those abundant profits" at Apple, and that's probably good advice. But they should be reassured in part because the company's stock price is so cheap.
I'm not here to offer investment advice, though. I'm here to wonder what exactly investors are thinking. Could it be that Mr. Market is entertaining the idea that, 25 years after Microsoft first surpassed Apple in net income and five years after Apple regained the lead, the two are about to switch places yet again?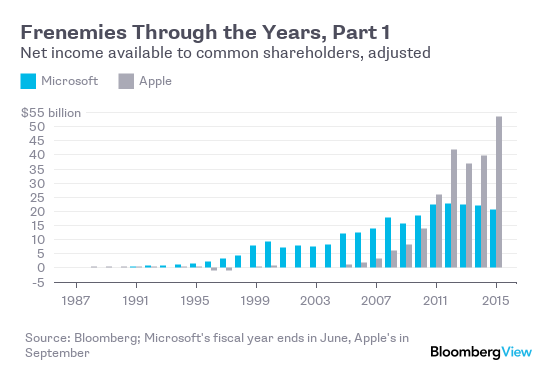 They're still awfully far apart in earnings, especially when you consider that the 2015 income number for Microsoft excludes a $7.6 billion write-off related to the disastrous purchase of Nokia's handset business just a year before (I used income excluding extraordinary gains and losses because that's what's used in the P/E ratios in the charts above). But when you look at market capitalization, it isn't nearly as big a gap. Apple's is $549 billion, Microsoft's $422 billion.
When I look at that chart, I can't help but shake my head. Do investors really think that Microsoft has a shot at soon resupplanting Apple as the world's leading tech company, along the way passing Alphabet (formerly Google), which has a market cap of $516 billion? I sure don't see it. But stranger things have happened.
This column does not necessarily reflect the opinion of the editorial board or Bloomberg LP and its owners.
To contact the author of this story:
Justin Fox at justinfox@bloomberg.net
To contact the editor responsible for this story:
James Greiff at jgreiff@bloomberg.net
CommentsWrite a Reply or Comment: